Fall Mini-Sessions:
Minis for 2017 are now sold out – thank you all for booking!
A couple of spots are still left for full sessions.  Use the contact form to contact me about that or to request to be on my mailing list for the next mini-season.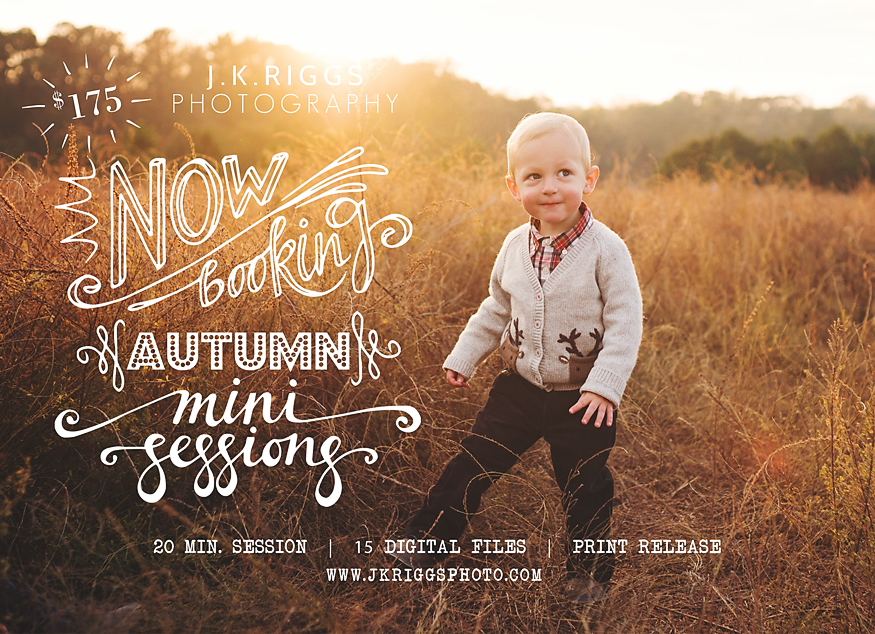 What:
20 minutes of family photography around the Atlanta area

15 processed images (chosen by photographer) to download

$175 includes session time, post-processing time, and download of images    

            
When:
Sunday, October 1st – morning  – Marietta Square (urban setting)

Rain-out day will be Saturday, October 7

Saturday, October 7th – evening – Druid Hills/Virginia-Highland

Rain-out day will be Sunday, October 29

Sunday, October 8th – morning – West Midtown (urban setting)

Rain-out day will be Saturday, October 28

Sunday, October 29th-morning – Roswell

Rain-out day will be Sunday, November 5

Saturday, November 4th – morning – Buckhead

Rain-out day will be Saturday, November 11

Saturday, November 4th – evening – Atlanta West Side

Rain-out day will be Sunday, November 5

Sunday, November 12th – evening –  East Roswell/Alpharetta

Rain-out day will be Saturday November 11 or November 18

Sunday, November 19th – evening – Stockbridge/Henry County – Christmas Tree Farm

Rain-out day will be Saturday, November 18
Where:
Because my clients are spread out throughout the metro Atlanta area, I try to pick a spots throughout town so that hopefully one of them is at least not *too* extremely far for anyone.  But I can't get to every neighborhood for mini-sessions – if you have a specific location you want to be in, please contact me about a full session and I'll be happy to work with you on finding the perfect spot.
Approximate locations are in the schedule above, but I've also included some images from most of these below.  So scroll down to take a look!
Booking:
Using the Booking Calendar tool below to select your date and time
Fill in your name and contact information below the calendar, select "Continue", and use PayPal to make the $175 payment as prompted
Please make sure you know which location you're selecting according to the schedule above!
If a date is no longer selectable, that means all the sessions for that date have been booked
Mini-Session FAQs

:
What are these mini-sessions all about?
Mini-sessions help me accommodate more families during a busy time of year.  They're good for those who want some updated family photos, but don't necessarily need the time or a required special location included in a full session.  They also make it easier on those who groan when they hear the words "family photos" (A few of you dads, you know who you are.)  20 minutes?  No problem!
How many pictures will I get?  Will they all look the same?
You will receive a  gallery of 15 images, that are ready to download (full resolution).   We will try to get at least one traditional family portrait, but I like to keep it loose and fun and capture genuine expressions, so you'll get some more playful photos, too.

What should I wear?
Don't know where to start here?  I've got you.  I'll be sending out some ideas and inspiration for outfitting the family upon booking.
Where will it be?
Make sure you've looked which location is assigned to each date before you book.  The exact location and meeting spot will be emailed to you about a week prior to the session day.
When should I arrive?
Because these are back to back, there's no wiggle room to run past your slot time; please arrive 5-10 minutes early so that we can be sure to start on time!
How many people can I bring with me?
Because these are short sessions, they are designed for 1 family at a time!
What is your cancellation policy?
Mini-sessions are non-refundable and cannot be cancelled.  Please make sure you're available before you book!
Can I give or sell my mini-session to someone else?
Yes!  You may absolutely give your session away, or sell it to another family if you are unable to attend.
What if I want to change my time?
To change your time, you must first purchase another available time.  Email me for further details: jennifer@jkriggsphoto.com.
What if it rains?
In case of bad weather and I cancel the sessions, you will be given the option to reschedule on a specific day.  If you are not available on that day, you will be given a refund.  (Note:  If it looks like it might rain but I don't cancel and in fact go ahead with just overcast skies, not showing up does not guarantee a make-up day.  Fall is an extremely busy season, and as much as I want to make everyone happy, I'm not able to schedule a enough make-up days to work around cloudy skies.)
Will you erase the background and make the background a unicorn running through a field instead?  Also, could you give my son a different pair of shoes?
All of your images will be processed by me; I take time with every single one of them for color, brightness, exposure, contrast, etc.  I also sometimes do some head swapping, if necessary for that one family photo with no one's eyes closed!  And if someone has a scratch on their face that's usually not there, or  a runny nose, then I try to remove it (and if I miss, you can point it out to me).   But because of the nature and volume of these mini-sessions, I do not offer extensive re-touching.  The purpose of a mini-session is to get a small number of good images of your family together; if you do want a more customized session, I encourage you to look at booking a full session during the year. 

CANCELLATION POLICY
Due to overwhelming demand and my very hectic schedule, Mini-Sessions may not be rescheduled and are non-refundable! If you find yourself unable to attend your Mini-session, you may gift or sell it to a friend. I, however, am unable to facilitate Mini-Session resales or refunds for any reason. If you wish to change your Mini-Session to a different date/time, you must purchase a new Mini-Session (subject to availability). You may then gift or sell your pre-existing Mini-Session to a friend.  If you are not able to sell or give your session away, you may contact me to open up your extra spot, but payment fees (approximately $5) will not be refundable.
Please be certain of your availability before booking your mini-session!
Location Previews:
Marietta – It's been a few years or so since I've shot here, so I don't have any examples to show.  But I can tell you that this will be an urban setting in downtown Marietta Square.
Druid Hills/Virginia-Highland – I keep coming back to this spot because I love the sunset light so much!

West Midtown – This will be my other urban spot this year.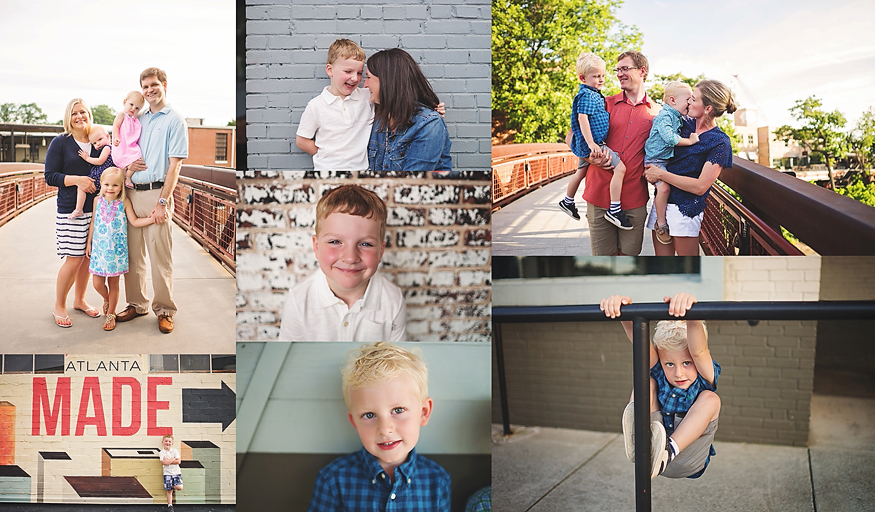 Roswell – Returning to this spot after taking a break the last 2 years; it's near historic Roswell.

Atlanta Westside – This is the closet spot I have to Smyrna folks (about a 15 minute drive).

Buckhead – This is on private property on the north side of Buckhead.  It's a small space, which means we can use our time well, and best of all, no competing for spots with other photographers.  🙂

East Roswell/Alpharetta – If you live in-town, don't be intimidated by the description here, it's only 30 minutes from where I live in Va-Highland.
Note on this location:  it's very popular for photographers – and high school students going to dances!  The images below were all from full sessions where we had to wait out a turn at the bridge.  Although I think we can use part of the bridge in our 20 minutes, I can't promise that we'll have it all to ourselves.

Stockbridge/Henry County – Trying a Christmas tree farm for the first time this year!  Which means driving a little further outside of the city.  This spot is about 35 minutes from both downtown Atlanta and Decatur.
I don't have pictures from this location, but I'm including some below from a different tree farm (which would be even further away), just for an approximate idea.
(This will not be a session with props or decorations – just the trees!)