March is here, and with it a bit of an invigorating chill in the air!
I tried to go for a walk last night – I made it about a block before I wimped out and turned back towards home – I was not prepared for a "feels like 32".
I had this post prepared before the weather turned cold again – for more of the "cool spring" than the "cold spring", but I'm going to trust that we'll get there again soon…!
About two autumns ago, I wrote a post about choosing what to wear for sessions. I was helping my sister choose clothes for fall family pictures, and the post was a bit of stream-of-consciousness about my thought process in going through that.   (You can see that post here.)
So I thought I'd do that again, but this time during the spring, a little less structured (because this was a last minute idea with just the kids), and not a planned ahead family session.  The mission was to keep the children warm enough, while still looking like spring-time, and this is how it happened:
Last week I had the urge to get out of town and find some pretty spots outside of the city!  The air was warm, trees were blooming, and my nieces and nephew live about an hour outside of Atlanta, with lots of rural space between us.  My sister (very, very graciously) agreed to get them up early and dressed Saturday morning to meet me at spot of trees I was hunting.  The plan was to take some pictures of just the kids – both parents had other plans for the day anyway, so I would spend some quality aunt time in the process and bring them home when we were done.
Well… all those pretty trees I had been seeing made me think these trees might be almost finished blooming. But it turned out they hadn't even started yet.  Bare, winter trees.  And a 3-year-old running wild.  Rather than force him to slow down for any posed pictures, I just let them play and we walked around, then we went to the town square and had brunch and walked around some more.  So, a couple of snapshots of each is all I have to show you – but I think it will do well enough to talk about layering in the spring!
I have several early morning sessions coming up, and it's good to remember that in the spring we may look at the forecast and see a high of 70, but it may still be COLD in the morning!  Small children do not like being cold – they shiver, they're uncomfortable, they're not happy.  Some of them cry.  And I want your pictures to reflect some happy times together!  (I mean, I love real moments, and I will take pictures of some tears – but I don't want them *all* to be that way.)
Everyone in my family tends to be pretty warm-natured – we don't mind the cold as much as some.  But still, I wanted to to make sure the kids had some layers on they could use if they wanted to.  And this, my friends, is what I thought about to get them ready for these pictures:
First, I told my sister not to shop – they can wear what they have.  It doesn't have to be fancy – "Just don't let Lilly wear that t-shirt with chihuahua in the beret.  Wear something simple. Don't try to match the 3 kids together – just look for colors that work well together."
Sounds easy enough, right??  (It got a little more complicated than I had intended….)
–   For her tween – Mom selected a navy cold-shoulder top that she wanted her to wear (Tween wasn't sure about the style, but she did it.)
–  For her 5-year-old – Mom sent me a picture of a coral top that was one of her little girl's favorites.  Long sleeves, not too cold.
– For her 3-year-old – Mom says, "I don't have anything for the spring for him."  And I offer to take a quick lunch break and pick up a shirt.
The other thing she old me was that she only had jeans for them all to wear – all dark jeans.  Which is ok… but I'd rather have at least one of them in something different, so that when they're sitting together their legs aren't a mass of navy.  I'm also thinking the same thing about her oldest – navy on top and bottom with no color to break it up.   So Mom sends me a picture of a cardigan the tween can wear – it's in the same bright coral that the 5-year-old will be wearing.
And now my head starts churning with more complications, because one of my rules is to steer clear of fluorescents – they cast color onto faces.  And the coral wasn't fluorescent, but it was close to it, and I'd rather have such a bright color as an accent color than have it on 2/3 of the upper bodies in the image.
So my solutions are:
1) White jeans for the tween – this will break up all the navy and add more of a spring touch
2) Find a layering combination for the 3-year-old boy.  I found a white and blue light flannel button down.  I paired it with a long sleeved green t-shirt to wear underneath – leave the shirt unbuttoned and roll up the sleeves together to get peeks of green.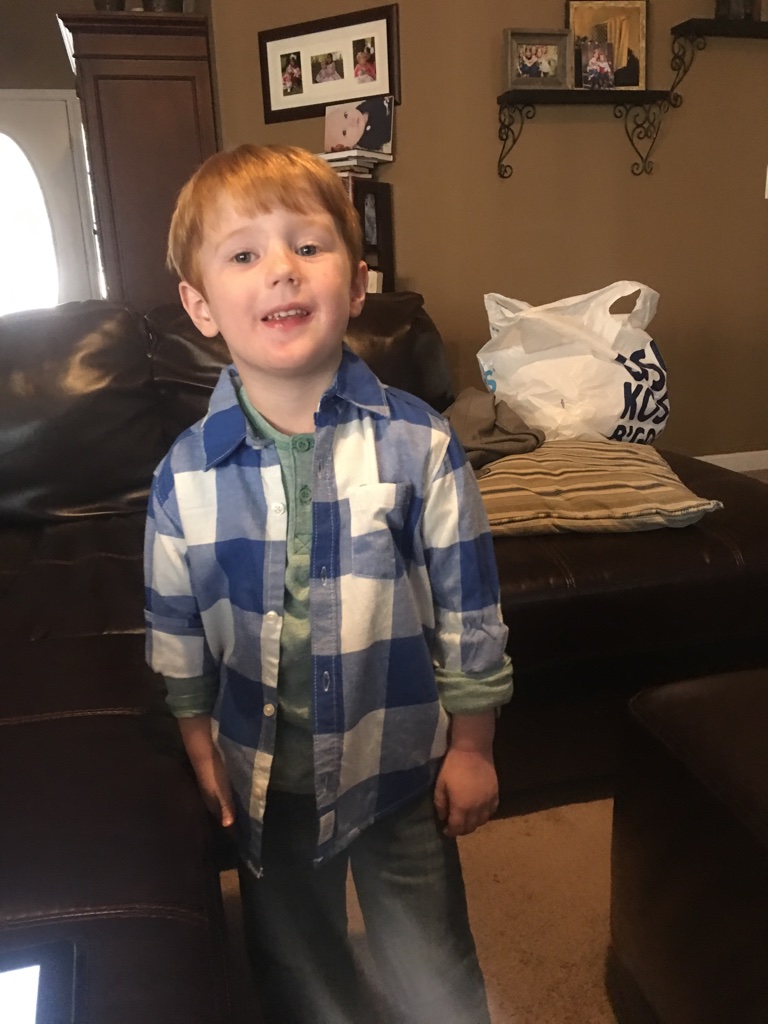 3) While I'm picking up clothes for the boy, I see something for the 5-year-old and pinks and pastels that looks so – her.  So picked that up, too.  The top was sleeveless, so I found a denim jacket (they are in stock at both Old Navy and Target right now.)
I didn't know if the new clothes would fit the 5-year-old, but the good thing about what the boy is wearing above is that it would have worked with both the coral or pink.  I chose this and another option (that he ended up wearing) over plaids with pink for this reason.
Sooo, a little more shopping than I had intended!  But it was Old Navy and Carters/OshKosh and that was it.  It was very helpful that these kids have a Mimi who loves to shop.  My mom  braved the juniors department and got the white jeans and a neutral jacket for the tween. (Because, to make it more complicated again – if the 5-year-old ends up in pink I wasn't sure the coral sweater would be the best choice for the tween.  It's harder doing this remotely and not seeing all the clothes in person!)
And so (if you've stayed with me this long), each child had something to wear that was warm enough for a morning in the 50's, but that still looked like spring-time and not winter, AND that could be delayered as the day started getting warmer (and they ran around more).
So you see, it can be done!  Spring doesn't have to be sundresses – pair the dress with a denim jacket, a sweater, leggings – anything to be prepared for the cool mornings!  And give your little guys a second layer – it's not only practical, layers photograph well, too.
Here's a look at each kid with all their layers on as well as a layer down. The goal was for it to work either way, and they did.
(Well, I don't have one with the youngest in his shirtsleeves – just shirt showing vs. not as much.  We had to button up his sweater because it kept falling off and he didn't like that.  Ideally, I'd get clothes that fit well – size down if we have to.  But this was last minute and there wasn't more time.  Some of the clothes were a little big, but for what we were doing, I wasn't too worried about it.)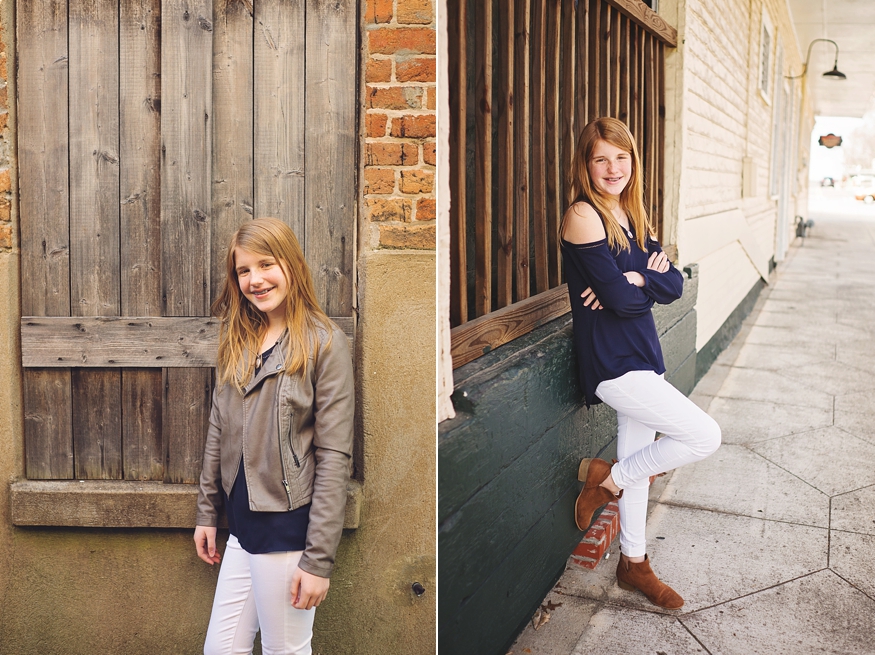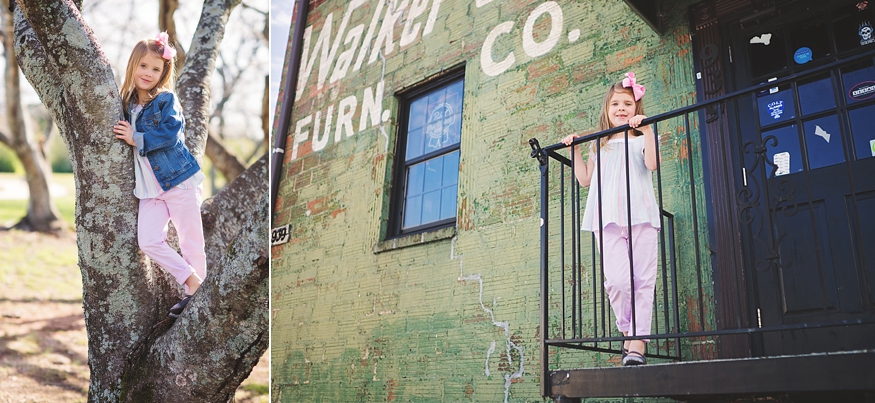 There you go!  That's my behind the scenes planning for this year – I hope it helps!